For the 19th time since August 2016 the Cash Rate has been held at 1.5%, with many speculating when the rate will rise.
The RBA sets the Cash Rate to steer the economy, in turn influencing interest rates throughout the Australian economy. As the data shows, the Cash Rate has remained at a record-low level.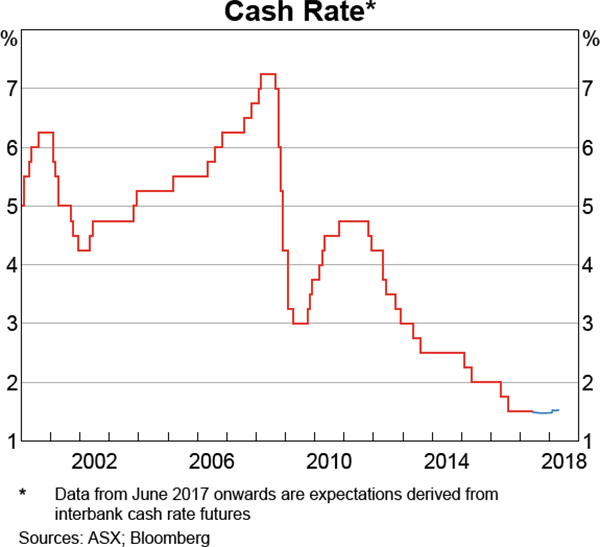 Why Does the Cash Rate Remain at 1.5%?
In the RBA's Media Release, Governor Philip Lowe cited strengthened global economic conditions, strong employment growth over the past year yet low wage growth, below 2% underlying inflation, and a slowing house market in Sydney and Melbourne as reasons for keeping the Cash Rate on hold at 1.5%. Notably, this is the RBA's only tool to try and stimulate the economy.
When Could the Cash Rate Rise?
Any increase in the RBA's forecast of expected inflation could cause it to increase the Cash Rate. If, for example, the 2018 Budget is aimed at increasing demand above the RBA's inflation target, the RBA may raise the Cash Rate to counteract the inflationary impulses of the budget deficit.
- Advertisement - Not Real Estate News Group Content
Indeed, economist Shane Oliver suggests that the Cash Rate may not change until 2020.
The website Domain.com.au's Chris Kohler agrees with Oliver's analysis and believes that the Cash Rate will not rise for some time into the future. Macroprudential regulation—involving the tightening of lending standards—has eased pressure on relying on higher interest rates to reduce demand.
Regardless, according to Business Insider, the Australian National University's RBA Shadow Board forecasted a rise in the Cash rate. They believe that the optimal Cash Rate is 1.75%, and such a rise would increase repayments for those with variable-rate loans, known for their sensitivity to Cash Rate movements.
Sources
https://www.rba.gov.au/media-releases/2018/mr-18-11.html
https://www.domain.com.au/money-markets/recordbreaking-rba-keeps-rates-on-hold-in-may-heres-when-to-expect-a-hike-20180501-h0zh01/
https://www.businessinsider.com.au/rba-interest-rate-outlook-anu-shadow-board-rate-hike-tax-cuts-2018-4